Top 15 Business Setup Consultants in Dubai

Dubai is a hub for businesses in the Middle East and North Africa (MENA) region. To set up a business in Dubai, you need to follow the legal procedures, obtain licenses and permits, and navigate through the bureaucratic procedures. Business setup consultants in Dubai can help you with these procedures and guide you through the legal framework. Here is a list of the top 15 business setup consultants in Dubai.


Discover Business Setup Consultants in Dubai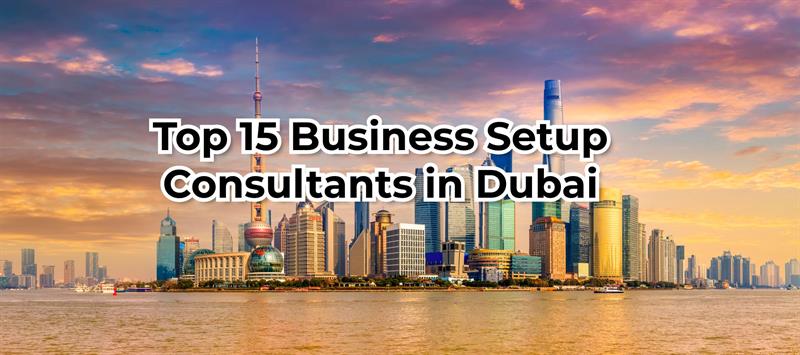 With all of the necessary legal formalities, starting a business in Dubai is both exhilarating and daunting. As a major regional economic hub, the emirate has only gotten stronger, and more people and companies are wanting to establish or extend their operations in Dubai. With the aid of business setup consultants in Dubai, launching your own firm can be simplified. These specialised businesses can assist you with the legal procedures, relieve you of the burden of paperwork, and aid in the swift and effective establishment of your business in Dubai.

Do You have plans for a business setup in Dubai? The best choice for anyone needing assistance with anything from paperwork to licensing and registration to gathering resources and personnel to opening an office in a free zone or on the mainland is to hire business setup experts in Dubai. They are also conversant with the most recent laws, rules, and policies that are relevant to commerce and business in the UAE. Additionally, they are well-versed in the target markets and the most effective ways to approach them. Today, Dubai is home to a large number of newly established businesses, the top 15 of which are listed below.


Top Business setup Consulatants in Dubai


1. KILTONS BUSINESS SETUP SERVICES

Kiltons Business Setup services is dedicated to helping you fulfill your desire to open a business in the United Arab Emirates. Kiltons, which was founded in Dubai, has over the years assisted a variety of large and small enterprises in effectively establishing their operations. This knowledge serves as the foundation for Kiltons' guarantee that it will offer hassle-free and comprehensive business setup services. They completely relieve you of the arduous processes to set up your firm, regardless of whether you are a renowned businessperson, an aspiring entrepreneur, or someone just starting out in the SME sector. Kiltons makes it simple for you to conduct business in this land of limitless opportunity. Within the parameters of your budget and business models, they provide the most affordable business setup and promotional services.

2. JUMEIRA CONSULTANTS

Jumeira Consultants is a business consulting company that offers elite management consulting services to various sectors of the public, corporate, nonprofit, and academic sectors. Since its beginnings as a tiny business in the United Arab Emirates, this corporation has advanced significantly. Jumeira Consultants offers advice on business setup in the UAE and the GCC nations, as well as a Freezone, offshore, and mainland sectors.

3. BIZTRACK

Among company formation consultants in Dubai, Biztrack is an established name. The company has a solid team of professionals who offer business establishment services in the free zones, mainland, and offshore sectors of the UAE. The group has helped more than 4500 businesses from more than 80 nations start-up since it was founded ten years ago. The company offers many different services, such as business setup in Dubai and all other UAE Freezone jurisdictions, legal documents for business establishment, PRO Services for Visa and Bank Account Opening, and more.

4. CREATION BUSINESS CONSULTANTS

Creation Business Consultants was established to assist entrepreneurs, small to medium-sized businesses, and multinational firms to enter, expand, and reorganise in the United Arab Emirates, Saudi Arabia, Kuwait, Bahrain, Oman, and Qatar. They collaborate closely with legal, accounting, and private equity firms as well as with financial consultants and auditors who seek their advice on corporate structuring issues. Their strong connections with government agencies guarantee that the most recent market information and knowledge inform the expert counsel they provide to customers. Creation guarantees clients a smooth, efficient, and cost-effective entry into the GCC market. They give their customers the fundamentals and best practices they need to create and run a successful business.

5. VIRTUZONE

You won't have to worry about the red tape connected with the UAE free zone and mainland company setup processes with Virtuzone if you're a startup, small business, or an individual who only requires a trade licence. That's because they handle all the labour-intensive tasks. Starting a business in the UAE has a number of technical, administrative, and financial requirements, but with the right assistance, the process is more simple and more economical than you may think. As a result of the assistance Virtuzone offers, they have become recognised as the top company setup consultant in Dubai, UAE.

6. MAKE MY FIRM

One of the leading business setup firms in Dubai, Make My Firm has more than 17 years of expertise. Due to its knowledge of financial, tax, legal, and insurance issues, clients can open a business in Dubai with ease. It has created best practices over time for various business categories, whether it be an LLC, an e-commerce business, or a professional firm. In order to obtain family and maid visas, they also offer PRO services to business owners.

7. DECISIVE ZONE CONSULTANTS

In Dubai and the UAE, Decisive Zone consultants are recognised as the best company setup consultants. The crucial zone has established businesses in Dubai and the rest of the UAE for more than 50 years. Their committed team ensures that their clients have the most trouble-free experience possible during the business establishment process in Dubai and the other UAE emirates while giving each client personalised attention.

8. SHURAA

One of Dubai's top company setup consultants is Shuraa. They assist you in streamlining the process of starting a business and reducing wasteful spending. The business can assist you in obtaining a professional, commercial, industrial, or tourism licence. To help you launch your business quickly, Shuraa also provides business centres, offices for rent, and smart desk alternatives. Shuraa offers a cost-effective bundle that includes everything a business needs to get started, including company registration, trade permits, government clearances, and PRO services.

9. FLYING COLORS

Flying Colors has been in business since 2004 and has extensive knowledge of how to establish businesses in Dubai. They provide packages to form mainland, free zone, and offshore enterprises, just as other advisors. Flying Colors provides helpful services for VAT, business accounting, and payroll administration in addition to assistance with business creation in Dubai and the rest of the UAE, all of which are necessary to ensure a business runs successfully. Flying Colors can assist newly established firms with a variety of tasks, including opening a bank account and registering with Dubai Customs. Flying Colors is the best alternative if you're looking for affordable business setup options in Dubai.

10. SAVVY SETUP CONSULTANTS

Another well-known name among Dubai's business setup experts is Savvy Setup Consultants, whose mission is to offer their UAE clients top-notch, well-organised services. The goal of the organisation is to maintain appropriate integrity and transparency throughout the processing process. They offer clients affordable packages in addition to comprehensive advisory services.


11. PRO-BUSINESS SETUP

Another consultant for business setup in Dubai is PRO Business Setup. PRO Business Setup provides anything from PRO to LLC formation services, making it a one-stop shop for people wishing to create a business in Dubai. This organisation can help you choose the ideal site for your firm and can also help you comply with the law. PRO Business Setup can be the best option for any business with personalised services at a reasonable price.

12. START ANY BUSINESS

As its name suggests, Start-Any-Business consultants may assist you in establishing any kind of business in the UAE. Their services place them among the top company setup consultants in the UAE, despite the fact that they were only created in 2019 and are a comparatively new consultant firm. The JMM group, which has so far incorporated more than 250 firms, comprises Start Any Business. Based on the company's position in the UAE, notably in Dubai, they have carefully designed packages.

13. AURION BUSINESS CONSULTANTS

Another well-known name among the business setup specialists in Dubai is Aurion Business Consultants. The organisation offers company formation services in Freezone, mainland, and offshore locations in the UAE owing to its skilled staff of professionals. According to statistics, since the business's founding over a decade ago, it has assisted more than 4500 enterprises from more than 80 countries in launching their operations. The organisation provides a comprehensive range of services, including legal papers for a commercial organization, PRO services for visa and bank account opening, and business setup in Dubai and all other UAE freezone jurisdictions.

14. RIZ & MONA CONSULTANCY

In Dubai, UAE, Riz & Mona Consultancy offers assistance with business setup. Customers can also benefit from a free consultation offered by the company to gain a better grasp of the services and packages available. Depending on their requirements and budget, the firms might choose one of these choices. The company has a strong track record as evidenced by more than 1600 clients it has helped build their business environments over the past 15 years.

15. RADIANTBIZ CONSULTANTS

Startup business owners favour Radiantbiz Consultants, one of the best business setup agents in Dubai. They've been around for roughly 12 years, and throughout that time they've helped launch a number of companies. They have served at least 15,000 clients who have traveled from 134 different nations. They are professionals in their sector and can assist your company in creating detailed plans and strategies.