Top 10 dermatology Hospitals in Dubai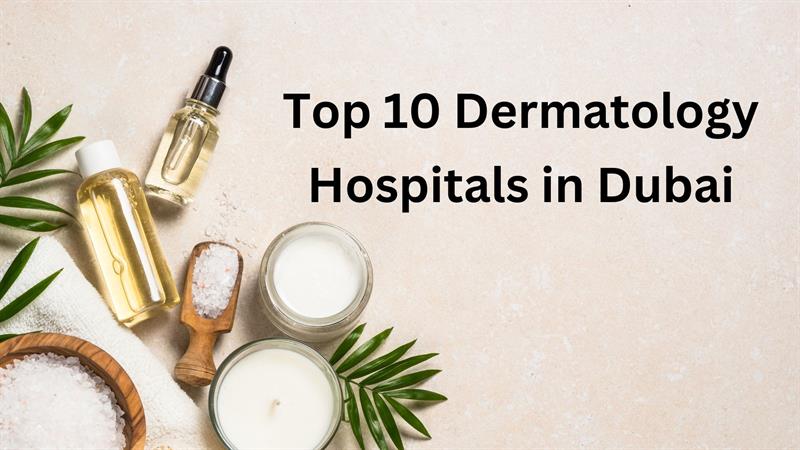 Dubai, a city known for its exceptional healthcare facilities, boasts some of the best dermatology hospitals in the region. These hospitals offer a comprehensive range of skin care treatments and procedures, delivered by highly skilled dermatologists and equipped with state-of-the-art technologies


Dubai, a bustling metropolis known for its iconic skyscrapers and luxurious lifestyle, is also emerging as a global hub for exceptional healthcare services. Among the various medical specialties, dermatology stands out as a booming sector, with numerous state-of-the-art hospitals and clinics dedicated to providing top-notch skin care solutions. This blog explores the significance of seeking dermatological services in Dubai, the growth of the dermatology sector, and the importance of prioritizing skin health.
The Booming Dermatology Sector in Dubai:
The dermatology sector in Dubai has witnessed significant growth in recent years, fueled by the city's increasing emphasis on personal grooming, aesthetics, and overall well-being. According to reports, the demand for dermatological treatments and procedures has surged by over 30% in the past five years, indicating the rising interest and awareness among residents and visitors regarding skin health.
Advanced Technology and Expertise:
Dubai's dermatology hospitals boast cutting-edge technology and highly skilled medical professionals, making them an attractive destination for individuals seeking comprehensive skin care solutions. From general skin concerns like acne, eczema, and psoriasis to advanced cosmetic procedures like laser treatments and injectables, these hospitals offer a wide array of services to cater to diverse needs.
The Significance of Dermatological Services:
Skin is a very important and largest organ of the body which very well serves as a barrier of protection against external elements. Maintaining healthy skin is not just about aesthetics; it is essential for overall health and well-being. Dermatologists play a crucial role in diagnosing and treating various skin conditions, helping individuals achieve clear, radiant, and problem-free skin.
Preventive and Corrective Care:
Dermatology hospitals in Dubai focus not only on treating existing skin issues but also on preventive care. Regular skin check-ups with a dermatologist can help detect early signs of skin problems, reducing the risk of complications and ensuring timely intervention.
Importance of Seeking Professional Advice:
While there is an abundance of over-the-counter skincare products, seeking the advice of a dermatologist is paramount. A dermatologist can assess individual skin type, diagnose specific concerns, and recommend personalized treatments that yield better and safer results than self-medicating with generic products.
Addressing Aesthetic Concerns:
Dubai's cosmopolitan lifestyle, filled with social events and gatherings, has heightened the importance of aesthetics. Dermatology hospitals offer various cosmetic treatments to address aesthetic concerns, helping individuals feel confident and beautiful in their skin.
As the dermatology sector in Dubai continues to flourish, seeking the services of a reputable dermatology hospital becomes even more important. With advanced technology, experienced medical professionals, and a wide range of services, these hospitals are committed to enhancing skin health and appearance. Prioritizing skin health through regular dermatology check-ups and professional advice is crucial for a healthy and confident life in the vibrant city of Dubai. Whether it's treating medical skin conditions or exploring cosmetic enhancements, dermatology hospitals in Dubai are well-equipped to provide personalized and effective solutions for optimal skin health.
If you are seeking the best dermatology hospital in Dubai, here are the top 10 that stand out for their expertise, patient care, and reputation:





Gargash Hospital





Gargash Hospital, established in 2000, has earned a prominent position in the dermatology industry in Dubai. With a team of highly skilled dermatologists and cutting-edge technology, the hospital is committed to providing top-quality patient care. Their services include acne treatment, laser therapy, skin consultations, cosmetic procedures, and more. Gargash Hospital is renowned for its exceptional customer reviews and high patient satisfaction.





Clinica Joelle





Clinica Joelle, founded in 2013, specializes in cosmetic dermatology and anti-aging treatments. Led by Dr. Joelle Rebeiz-Nielsen, a well-known dermatologist with years of experience, the clinic offers a range of services such as skin rejuvenation, facial contouring, hair restoration, and other cosmetic procedures. Clinica Joelle is highly regarded for its personalized treatments and outstanding results.





Aesthetica





Aesthetica, established in 2002, is a state-of-the-art cosmetic and dermatology clinic in Dubai. The hospital offers a wide range of advanced skincare treatments and aesthetic procedures. Their services include skin rejuvenation, facial sculpting, hair removal, and body contouring. Aesthetica is known for its exceptional customer service and advanced non-invasive treatments.





Dermalase Clinic





Dermalase Clinic, founded in 2010, is a leading dermatology center in Dubai offering comprehensive skincare services. The clinic's dermatologists are experts in treating various skin concerns, and their services include skin rejuvenation, laser hair removal, acne treatment, and scar revision. Dermalase Clinic is renowned for its customer-centric approach and successful treatment outcomes.





Skin 111





Skin 111, established in 2003, is a renowned dermatology and skincare clinic in Dubai. Led by Dr. Mohamed Osman, a highly skilled dermatologist, the clinic offers a wide range of services, including skin consultations, acne treatment, and personalized skincare regimens. Skin 111 is known for its customer-friendly approach and holistic treatment plans.





Al Rustom Laser





Al Rustom Laser, operating since 1998, is a well-known dermatology and laser center in Dubai. The hospital offers a range of services, including laser hair removal, skin tightening, and facial rejuvenation. Al Rustom Laser has garnered a strong reputation for its advanced laser treatments and high-quality patient care.





The Elixir Clinic





The Elixir Clinic, established in 2013, is a leading wellness and aesthetic clinic in Dubai. Their team of dermatologists and wellness experts provide personalized treatment plans for various skin concerns, as well as overall well-being. The Elixir Clinic is known for its luxurious ambiance and innovative wellness therapies.





Kaya Skin Clinic





Kaya Skin Clinic has been operating in Dubai since 2003 and is a well-established skincare chain. Their services include acne treatment, skin brightening, anti-aging solutions, and more. Kaya Skin Clinic is highly regarded for its evidence-based treatments and exceptional customer service.





JTS Medical Center





JTS Medical Center, founded in 2016, is a reputed dermatology and aesthetics clinic in Dubai. Their services include laser treatments, facial aesthetics, and body contouring. JTS Medical Center is known for its skilled dermatologists and personalized treatment plans.





Leila Hariri Dental & Medical Aesthetics





Leila Hariri Dental & Medical Aesthetics is a renowned clinic offering comprehensive dental and medical aesthetic services. Their dermatology department provides various treatments, including skin rejuvenation, facial fillers, and chemical peels. The clinic is recognized for its professional approach and top-quality services.
Conclusion
Dubai offers a plethora of world-class dermatology hospitals, each equipped with cutting-edge technology and staffed by highly skilled dermatologists. These hospitals have earned their reputation through years of delivering exceptional patient care and achieving outstanding results. From general skincare treatments to specialized cosmetic procedures, these top 10 dermatology hospitals in Dubai cater to a wide range of skin concerns and aesthetic needs.
Before choosing a dermatology hospital, it is essential to consider factors such as the hospital's prominence in the industry, client reviews, and the expertise of the medical team. Each hospital on this list has demonstrated its commitment to providing personalized treatment plans, ensuring patient satisfaction, and maintaining the highest standards of care.