Top 7 Car Tyre Shops In Dubai

Discover the top seven car tyre shops in Dubai with exceptional tyre services, including repairs, replacements, wheel balancing, and wheel alignment, among others


In Dubai, having high-quality tyres is essential for safe and efficient driving. With the abundance of options available, choosing the right tyre shop can be a challenging task. This article aims to make the process easier by presenting the top seven car tyre shops in Dubai. Each of these shops provides exceptional tyre services, including tyre repairs, replacements, wheel balancing, and wheel alignment, among others. Moreover, they offer a comprehensive range of car maintenance services, including oil and filter changes, car battery replacements, and AC repairs, making them a one-stop shop for all your car needs.
Fasttrack Emarat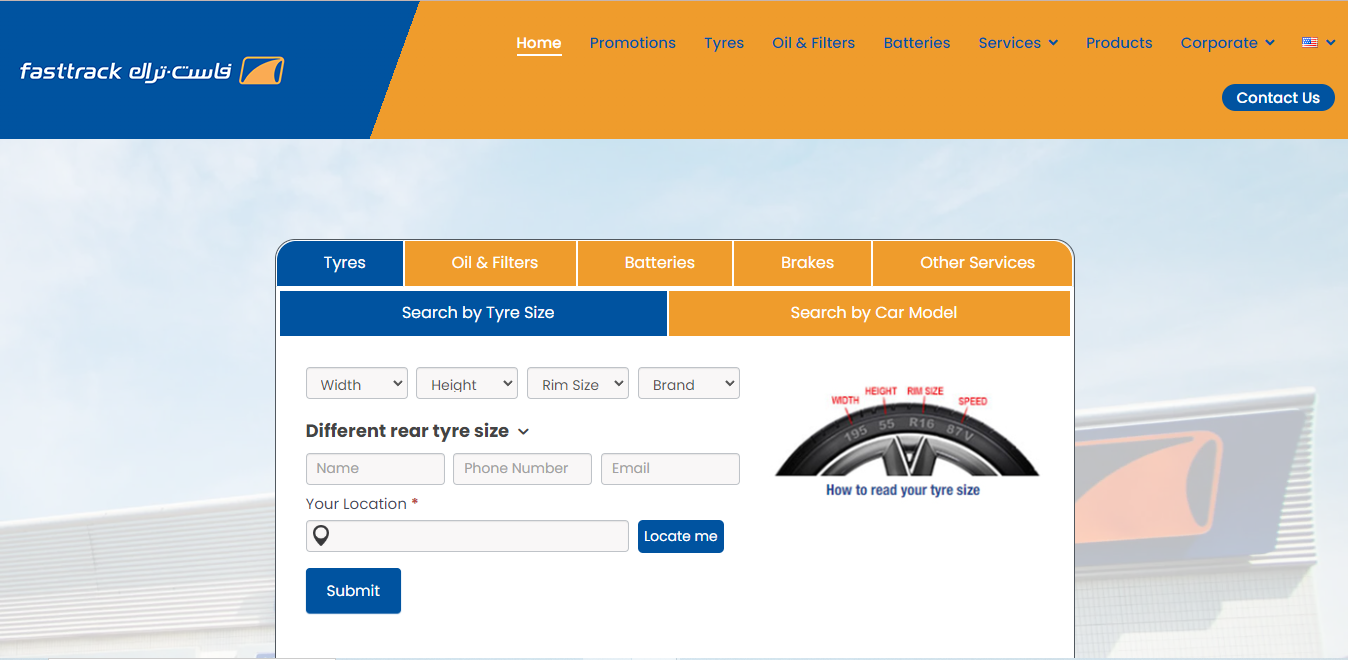 Fasttrack Emarat is undoubtedly the best tyre shop in Dubai, offering exceptional tyre services to its customers. The shop has earned a reputation for providing high-quality tyres from renowned brands, making it a one-stop shop for all tyre needs. Additionally, the highly skilled and knowledgeable team of professionals at FatTrack Emerat ensures that every customer is attended to with the utmost care, providing personalized solutions to their specific needs. Whether it's tyre replacement, balancing, or wheel alignment, the shop guarantees excellent workmanship, making it the go-to place for motorists in Dubai.
Car services offered:


Tyre repairs & replacement


Car Battery replacement


Oil & Filter


AC repair


Brakes & Electrics


Address: Emarat Gas Station, Al Safa - Al Wasl Rd - Jumeirah - Dubai - United Arab Emirates
Contact:+971 4 342 9191
Dubai Tyre Shop
Dubai Tyre Shop, renowned for its superior quality, is an online tyre retailer that operates multiple fitting locations across Dubai, Abu Dhabi, Sharjah, and Al Ain. The tyre shopping process at Dubai Tyre is effortless and convenient, as customers can effortlessly purchase their preferred branded tyres through the online platform, add them to their cart, and easily schedule their preferred fitting location and time. In addition to car tyres, the shop also offers a diverse range of tyres for pickup trucks, vans, SUVs, and off-road vehicles across Dubai, providing customers with a comprehensive range of high-quality tyre options.
Tyre services offered:


Free fitting


Tyres balancing


Tyre rotations


Wheel alignment


Address: Dubai Head Office - Aspin Commercial Tower, 20th Floor - Sheikh Zayed Rd - Dubai - United Arab Emirates
Contact: +971 55 626 9517
PitStop Arabia
Pitstop Arabia, a premier online tyre change shop in Dubai, boasts the most extensive network of auto maintenance centres in the city. The shop provides a diverse range of top-quality tyre brands, along with superior fitting and installation services. To purchase tyres from Pitstop Arabia, customers only need to select their desired brand and size, select the nearest installer, enter their address, and make their payment online, making the tyre shopping process convenient and hassle-free. Pitstop Arabia is dedicated to offering exceptional value to its customers, frequently updating its prices to ensure affordability, while providing access to over 30 top brands and an extensive selection of over 2,200 patterns and sizes in tyres.
Car services offered:


Car AC Repair


Car Brake


Car Detailing


Car Paint Protection


Car Periodic Maintenance


Address: Building 4, Ground Floor, Dubai Outsource Zone - Manama St - Dubai - United Arab Emirates
Contact:+971 4 876 0111
ZDegree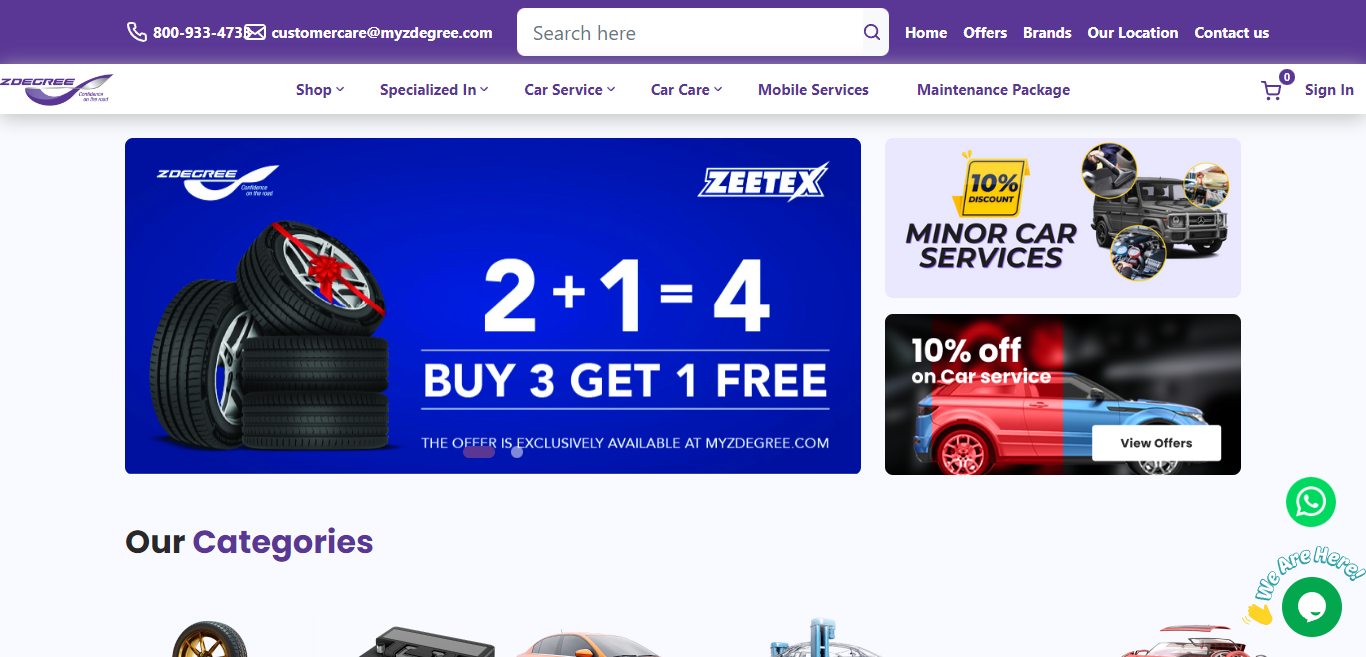 My ZDEGREE is a leading online tyre shop in Dubai that provides a comprehensive range of top-quality automotive maintenance services for an array of vehicles, including cars, SUVs & 4*4s, trucks, and other commercial vehicles. The shop aims to make the process of vehicle maintenance hassle-free for customers by offering a convenient Pick-Fix-Drop Service that eliminates the need to visit a garage. In addition to their exceptional tyre services, My ZDEGREE also provides a range of other automotive services in Dubai, including car wash, window tinting, oil change, battery services, and auto detailing, all at affordable prices. Customers can choose from a wide range of top-brand tyres that can be delivered to their doorstep, and they also have the option to avail of a free online consultation, ensuring complete satisfaction with their purchase.
Car services Offered:


Services provided:


Car recovery services


Suspension repair


AC repair


Oil changes


Address: 4th Street - Al Quoz - Al Quoz Industrial Area 4 - Dubai - United Arab Emirates
Contact:+971 800 9334733
Dial A Tire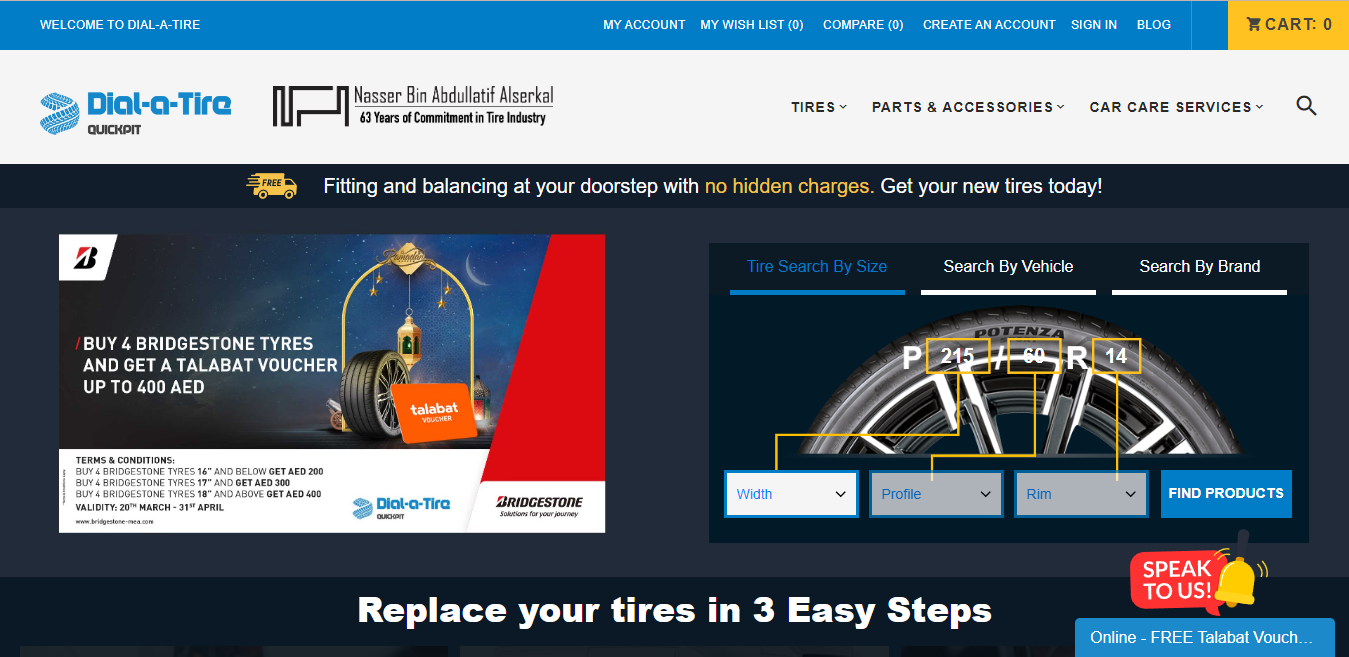 Dial A Tire, an exceptional tyre shop located in Al Quoz Dubai, offers a convenient and hassle-free online and in-person tyre purchasing experience for all its customers. The shop's optimised Tire Finder tool allows users to select their preferred tyre specifications and effortlessly find the best match for their needs. Clients can easily check the prices of tyres and installation services while purchasing the products, ensuring transparency and convenience. Additionally, Dial A Tire provides a comprehensive range of car care services, vehicle parts and accessories, and expert guidance to help customers make informed decisions about their vehicle. With a focus on delivering top-quality products and services, Dial A Tire is widely regarded as one of the best tyre shops in the region.
Car services offered:


Change Oil


Tires Rotation & Nitrogen Filling


Oil Filter Replacement


24 Points Car Inspection


Coolant Top up


Address: Office 410, 4th Floor, Alserkal Bldg Airport Road Port Saeed - Sheikh Zayed Rd - Deira - Dubai - United Arab Emirates
Contact: +971 800 382728
Tyres Online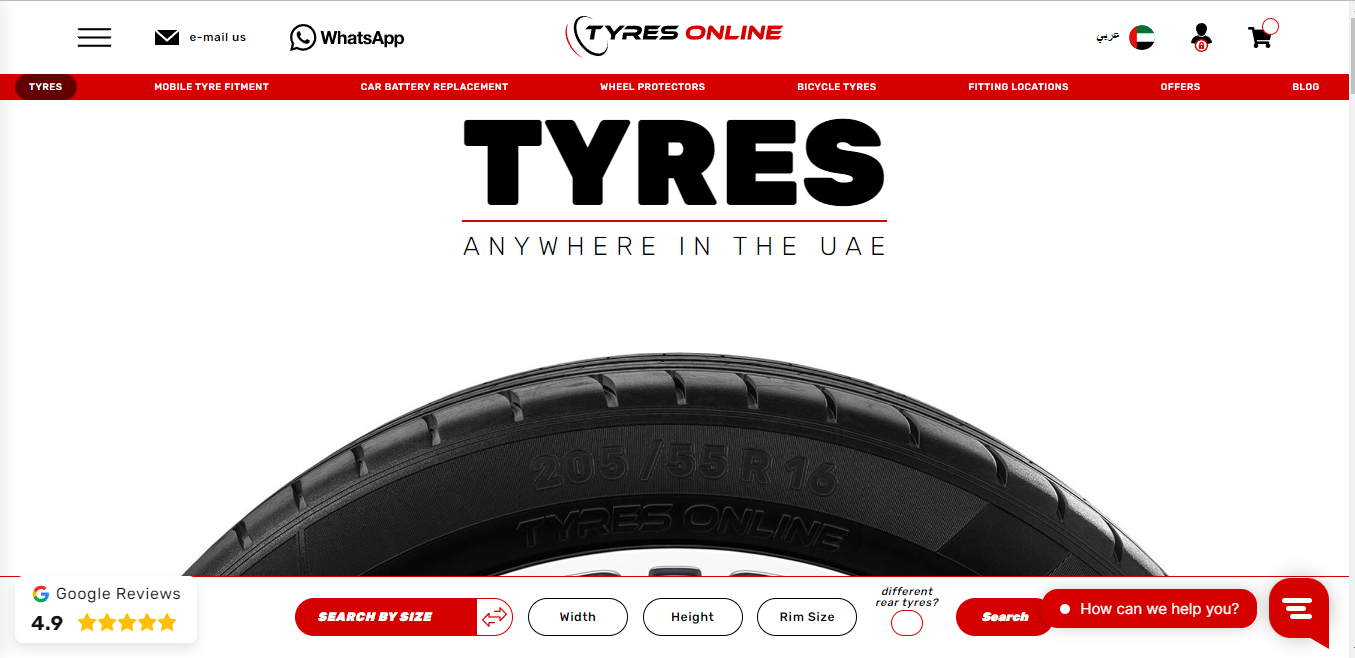 Tyres Online is a reputable tyre service company based in Dubai that provides top-quality tyre installation services, with registered installers available in all major areas. The shop offers a diverse range of premium tyre brands at competitive prices, available for purchase online, and provides free delivery to all seven emirates. Customers can also avail themselves of additional services, including expert consultation from wheel and tyre professionals and high-quality tyre fitting services. With a focus on delivering exceptional quality and service, Tyres Online is a reliable and trusted choice for all your tyre needs in Dubai.
Car services offered:


Mobile tyre fitment


Battery replacement


Wheel protectors


Bicycle tyres


Address: 2nd Floor Office 223 Block C, Mardoof Bldg Al Safa 1, Sheikh Zayed Rd. Dubai, UAE - Dubai - United Arab Emirates
Contact: +971 800 25589737
Saeedi Pro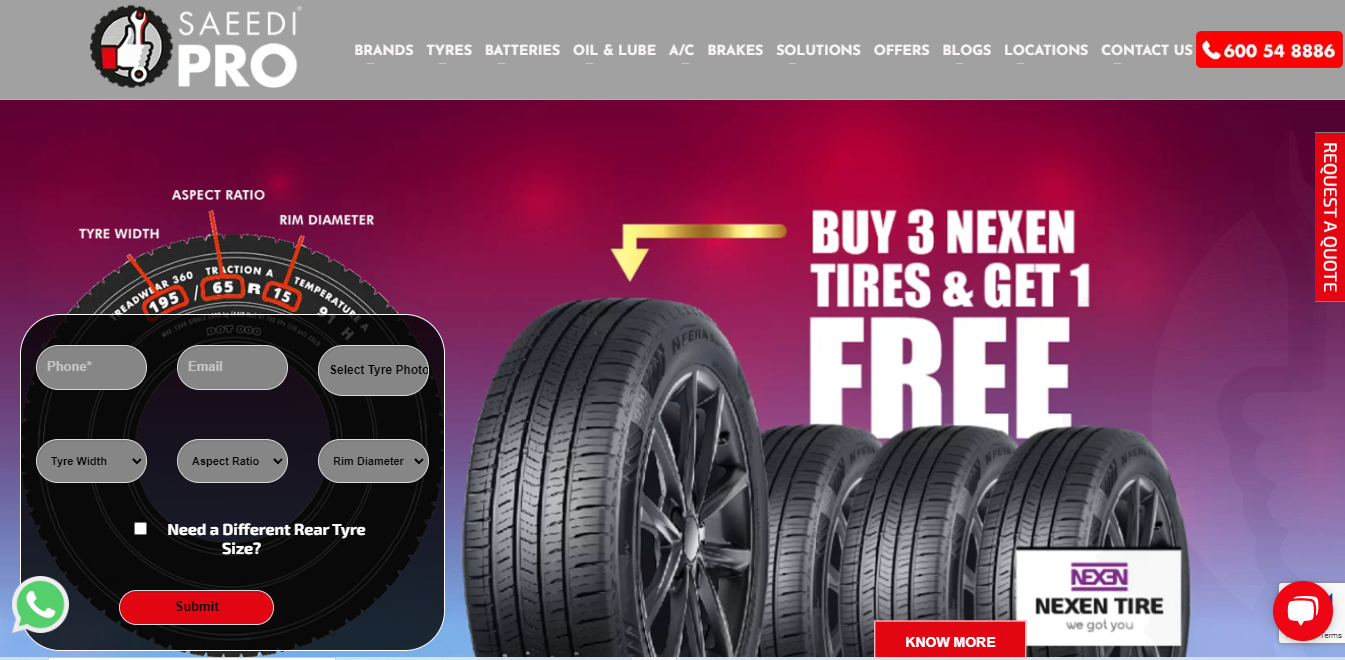 Saeedi Pro auto care centre in Dubai is a leading provider of premium vehicle services with a team of professionally trained experts dedicated to providing exceptional quality and customer satisfaction. The shop offers an extensive range of the best tyre brands in Dubai, including Yokohama, Michelin, Bridgestone, Nexen, and more, to cater to diverse vehicle needs. With nine conveniently located outlets across the emirate, Saeedi Pro provides easy access to high-quality automobile services in Dubai for all customers. With a focus on delivering exceptional quality, professionalism, and customer service, Saeedi Pro is a trusted choice for all your vehicle needs in Dubai.
Car services offered:


Car tyre sale


Car maintenance & services


Car battery service


Address: 6A Street – Al Quoz – Al Quoz Industrial Area 3 – Dubai – United Arab Emirates
Contact: +971 4 347 7550