Importance of Educational Certificate Attestation in UAE

It is important to attest your educational certificate in UAE to get a job in UAE or for any later purposes. This article will give you a clear idea about why attestation of certificates is important.



If you are a student that is seeking admission in any of the UAE universities, or if you are a degree holder that wishes to apply for jobs in the UAE, then there is one mandatory step that you must complete. This step is educational certificate attestation and is a vital process to be completed before using the educational certificates internationally. The attestation process verifies your academic certificates and validates that you are the actual owner and possess the qualifications stated in those certificates.


Educational Certificate Attestation in UAE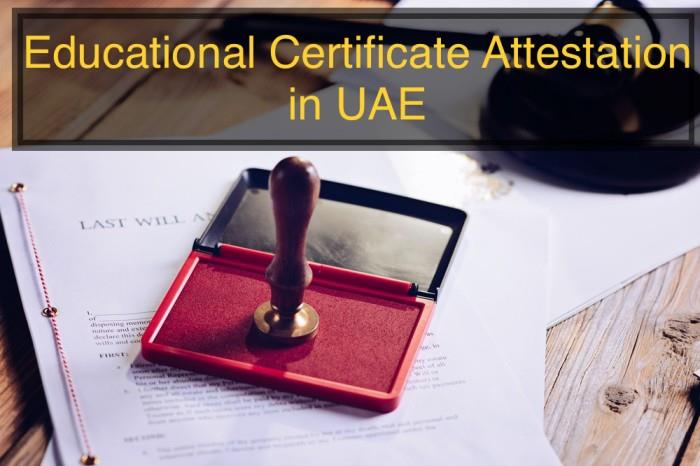 You can initiate the certificate attestation process prior to leaving your home country as well as while you are living in UAE. But, it is important to note that you will not be able to use the educational documents in any place unless they are attested by due government offices.
As the process is itself lengthy and can take up to 3 or 4 weeks, and even more, given the raging pandemic, you must initiate it well ahead of time to avoid any delays in your admission.

While you can initiate the process on your own, by reading the guidelines and regulations mentioned on the official government website of your country, you can also opt for a company that offers attestation services in UAE. These companies charge you nominal fees for different types of attestations. All you have to do is, submit your original educational certificates, and other supporting documents and remit the fee.

All the steps such as filling forms and taking documents from one place to another will be done by the company chosen by you and the attested documents will be handed over to you afterwards.

As you have to submit your documents in original, it is important that you opt for a highly reputed company with sterling ratings to avoid any problems.

Here, we are sharing various facts that will help you understand the importance of educational certificate attestation in the UAE and why you should get it done.

So, if you are planning to migrate to the UAE for studies, jobs or relocation, take a thorough read of the following post and get your certificates attested.


Importance/ Need of Educational Certificate Attestation in UAE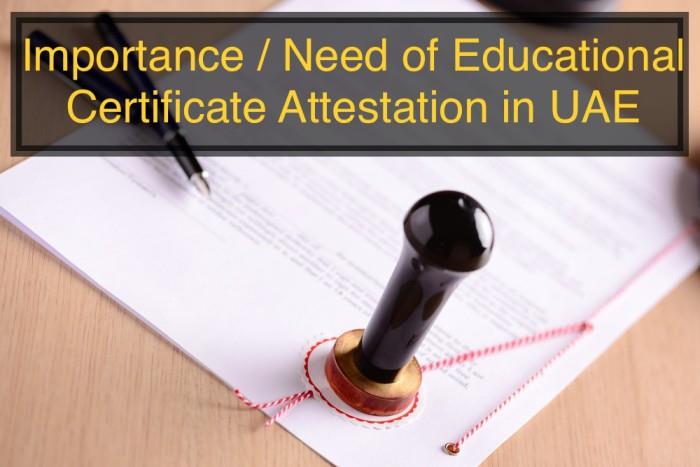 1. Higher Education or Studies in UAE
If your family is moving to the UAE and you are moving along with them while you are still studying, then as a rule, you must get your academic certificates and documents attested from the designated government offices back home. If you are a school pass-out or graduate degree holder, who is looking for higher studies options in the UAE, you are also required to convert your mark sheets into transcripts. This conversion makes your credits and exam scores valid and acceptable for the universities in the UAE.

Finally, if you are an international student in UAE, you have to get all your certificates attested. This is a mandatory step you must complete before leaving your home country.

2. Educational Document Attestation for Migration purposes
If you are migrating to the UAE, there is a high probability of you seeking a job to support yourself. You have to attest your degree certificate attestation in UAE too. Even if you are not looking for a job right now, you might look for one later in your life. So, it is better to complete the attestation process at your earliest, so that you can use your certificates immediately when they are required.
Once you have migrated, the process becomes more complicated and more expensive. So, you must get the documents attested and transcripts done well before you leave the country.

3. Education Certificates must be attested for getting an Employment Visa
If you are moving to the UAE with an employment visa and are looking for jobs, everywhere you will be asked to submit your educational documents. As only the attested documents are valid for international use, it becomes important for you to get them attested well in advance. There are many jobs that might slip out of your hand, just because you didn't have attested documents to be submitted right at the time.

4. Attestation is important for Business Purposes as well
Even if you are arriving in the UAE with an aim of opening your business there, you must have the attested educational certificates with you. This is because your business profile will require them. Your academic credentials are of extreme importance if you are planning to start up a setup in association with some other existing business.

So, it is extremely important to have attested documents even before you leave your country.
Now, we explain the stepwise process of getting your educational documents attested. Take a careful look at that and make sure you don't miss any step.

Education Certificate Attestation Process:
---- The educational documents are first submitted in the office of the Education Ministry of the state concerned.
---- Once they are verified, they are forwarded to the Ministry of External Affairs of India.
---- Once the second-level verification is complete, you have to take the documents to the Consulate, where the final verification and attestation is done.
---- Now, the documents are handed over to you.
---- Check the fee for document attestation on the official website so as to avoid problems later.

Important points that you should not miss:
---- The fee remission for document attestation can be done via Credit or Debit Cards with international payment facility.
---- The UAE consulate offers a Multi-Currency Prepaid Card facility via which you can pay all kinds of fees in any currency without involving in the exchange process.
---- You can also pay the document attestation fee via the online payment portal or the e-Gate Payment System.

This brings us to the conclusion of our discussion and we hope that all our readers find the information shared here helpful. As the regulations and fees etc might change over time, we recommend checking the official sources for the latest updates and changes. For more expert guidance and specific queries, you can also leave your comments in the section below.

Thanks for reading!